Printed U-shaped travel pillow
| | |
| --- | --- |
| Brand: | Hao xian long plush toys |
| Place of Origin: | Shenzhen city, guangdong province, China |
Product Description
Type_pillow, also known as U-neck pillow, car pillow, aviation pillow, nap pillow, leisure pillow, gift pillow, U-type travel pillow, etc., is a powerful new product to protect cervical vertebra. When in use, the U-pillow can be surrounded around the neck and pasted over the shoulder. With the protection of U-shaped neck pillow, when you lean on the seat, your head will have a strong support, soft and comfortable, and there is no danger of cervical spine strain. When you sleep, your head will not swing from side to side, just like when you sleep in bed. It uses warm memory cotton material, which can provide the most average, gentle and real support for the head and neck, does not hinder blood circulation, avoids neck and shoulder pain caused by napping. U-pillow can be used in many occasions, has different uses, health and comfort, and has obvious preventive and therapeutic effect on cervical spondylosis.
1. U-pillow is suitable for daily office leisure (such as computer operation, TV watching and long-distance travel). The head and neck of daily office are fixed for a long time. It is easy to cause spinal strain. The use of U-pillow can effectively prevent spinal strain.
2. U-pillow is a good choice for long-distance drivers. It can adjust the driver's head 15-20 degrees, avoid the pressure of the jugular vein of rabbits, reduce fatigue, and is conducive to safe driving.
3. The characteristics of U-pillow are beautiful, easy to disassemble and clean.
4. U-pillow can also be used in office cushion and nap.
5. Long-term use can protect cervical vertebra health.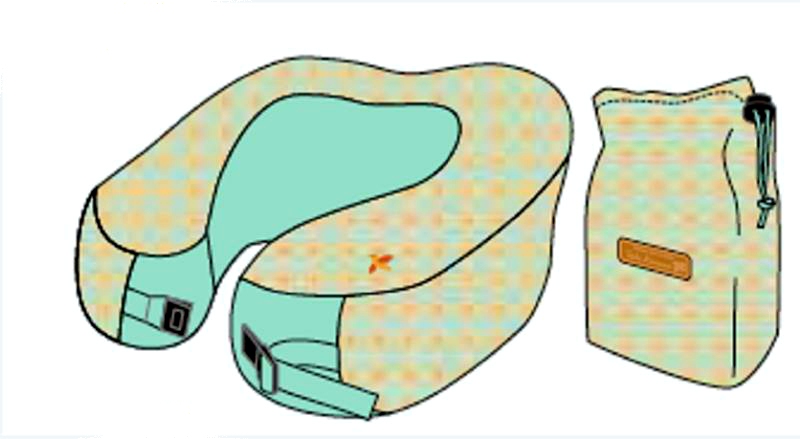 Essential information:
Classification:Travel pillow Product name:Printed U-shaped travel pillow
Modelling category: Pillow The fabric : Knitted fabric
size: Customizable
Cloth introduction: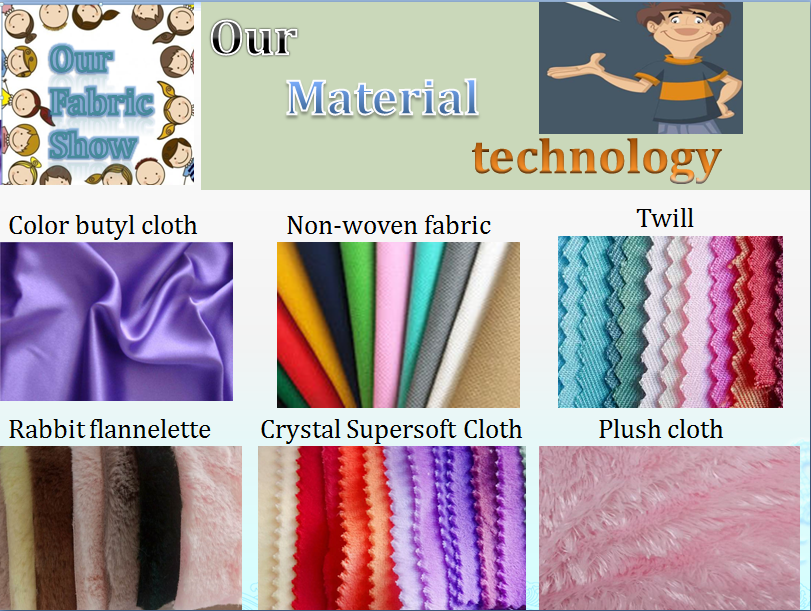 1.Yarn-dyed cloth: the structure of the silk thread is well shaped. The appearance is similar to 5 pieces of satin and 8 pieces of satin. The density is better than 5 pieces of satin and 8 pieces of satin. Specifications are generally 75 * 100D, 75 * 150D and so on. The raw material of tinted cloth: it can be cotton, blended or polyester, or pure chemical fiber, which is formed by the different organization of the fabric. The product that lubricious ding bu makes popularity is wide, glossiness drape feels good, feel soft. Elastic colored butyl cloth "adopts polyester FDY dayou light 50D*DTY75D+ spandex 40D as the raw material, and USES satin weave weave in the jet loom. Because the warp thread adopts dayou light silk, the cloth surface has charm, and occupies a place in the recent fabric market with the advantages of lightness, smoothness, elasticity, comfort and luster. Polyester low-elastic silk is the raw material, the fabric structure USES satin plain grain to change the texture, woven on the air jet loom, grey cloth and then after desizing, pre-shrinking, softness and other treatment, the fabric permeability is particularly good, and feel soft and smooth, fabric width is 150cm. Design and color d set comfort, modern sense, artistic sense in one of the new fabrics
2. Non-woven fabrics: They are directional or random fibers. They are a new generation of environmental protection materials. They are moisture-proof, breathable, flexible, light, non-combustion-supporting, easy to decompose, non-toxic, non-irritating and colorful.
3. Twill: various twill fabrics are used to make the surface of the fabric show oblique lines formed by warp or weft floating lines. Twill is a medium thickness denim, there are two kinds of thick, fine (20-40 pieces), are using 2/1 left twill organization, texture than plain cloth slightly thick soft, front lines clear.
4, rabbit wool: rabbit wool fiber scales are relatively smooth. Soft sex, hygroscopicity, do not have a ball, also be rabbit flannelette material underwear rises in recent years one of main reasons. Rabbit hair belongs to amino acid protein fiber, which is similar to the composition and structure of human skin, has a good skin-friendly feeling, and has the function of maintaining animal life.
5,Crystal ultra soft: crystal super soft wool surface to be more delicate, feel better. High density between fibers, strong three-dimensional sense of hair, beautiful appearance, compared with the original super soft, glossiness is higher, feel more soft and thick, fine texture, environmental protection and so on.
6,Plush:wool fabrics have a velveteen, velvet, velvet, cluster flannelette, polyester silk fabrics flannelette flannelette, knitted fabrics, cotton fabrics flannelette velvet, velvet fabrics, warp knitted fabrics flannelette (new varieties, with 50 d polyester yarn and polyester FDY such DTY75D / 36 f/strong mesh as raw material, using the knitting chain structure, fabrics successively after scouring desizing, finalize the design, dyeing, softening, stenter stereotypes, such as deep processing), hole ring flannelette, super soft plush cloth (the latest varieties), short plush cloth (the latest varieties)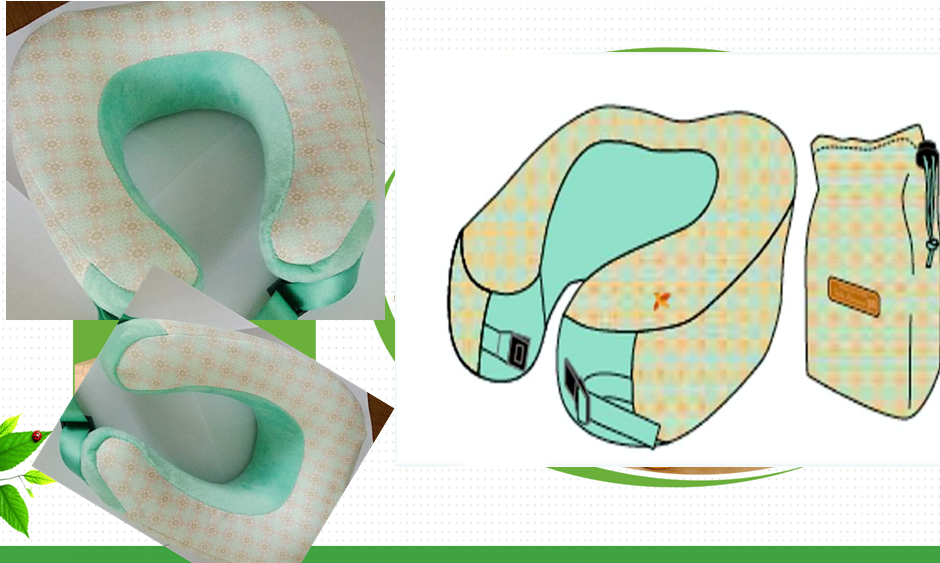 Main description :
1. Cloth ordering: in modern society, there is a clear division of labor, manufacturers have their own responsibility to produce cloth and doll products. Production problems tend to occur in non-factory processes. Therefore, it is particularly important for us to control the quality of materials. We strictly choose a number of fixed material cooperation factories, not only to ensure the richness of the material color, but also to control the stability of the material quality.
2. Knife mold making: it takes only a few hours from the start of making to the official use of knife mold for travel pillow. Come on! Low price! Fashion! As promotional gifts, conference gifts and activity souvenirs, travel pillow has become an important factor for most enterprises to choose.
3. Fabric opening: there are four opening ways for the travel pillow: punching machine, laser, electric shearing and thermal shearing. Punch opening requires first unfolding of the whole cloth stack. The more layers, the lower the cost of material opening. In the industry, the general to 28-33 - based. The factory will take the 28th floor as the main body, and strictly follow the standard in every process to ensure the matching effect of bulk goods and samples.
4. Electric embroidery silk-screen printing: electric embroidery silk-screen printing is the main manifestation of logo or pattern on customized graphics; Screen printing is a printing process, in most cases is not necessarily electric embroidery looks high-grade. However, electric embroidery cannot completely replace silk screen printing. For example, small and complex patterns or symbols of electronic embroidery are not possible. Only silk-screen printing can display fine and clear patterns. For example, some parts of the requirements in the production of patterns at the same time to avoid the hardening of parts affect the appearance (electrical embroidery will lead to the hardening of parts), then also need to choose the electrical embroidery process to show the logo or pattern. Of course, we don't have to worry about which process we choose to display our logo. We will provide professional solutions according to the actual situation.
5. Splicing and cutting: splicing is the process of splicing all cut parts together, which is one of the most important processes in all processes. Whether the sewing process is strictly standardized will directly affect the flatness of the doll's appearance; Our factory has strict sewing standards. Stitch 45 mm, evenly spaced, 12 inches apart. B. Fine needle, no. 11 needle, 402 fine thread. All points must be aligned with the bone and must not explode.
6. ginning: ginning seems to be a simple process, in fact, is a very important process; It is true that cotton is easy to learn, and a new master can learn it in five minutes. But doing the simple job of cotton well is not easy. The cotton is not only put inside the doll's shell, but it is also rinsed evenly to ensure that the finished product has a round, full appearance. Simple things can be repeated to become an expert, to become a cotton expert needs at least three years of accumulation; And I plant all the cotton beating machine are more than five or six years of experts.
7.sewing manual: sewing, manual, is the final process of plush toy products; Each doll leaves an unstitched position during the cutting and stitching stage. This position is often called the left mouth position of leather or cotton, which, as the name suggests, is reserved for leather and cotton. And this position can only wait until the manual suture after the cotton thread is completed.
8. Product quality inspection: product quality inspection is the last quality control link. After the product passes the quality inspection, it is the final product.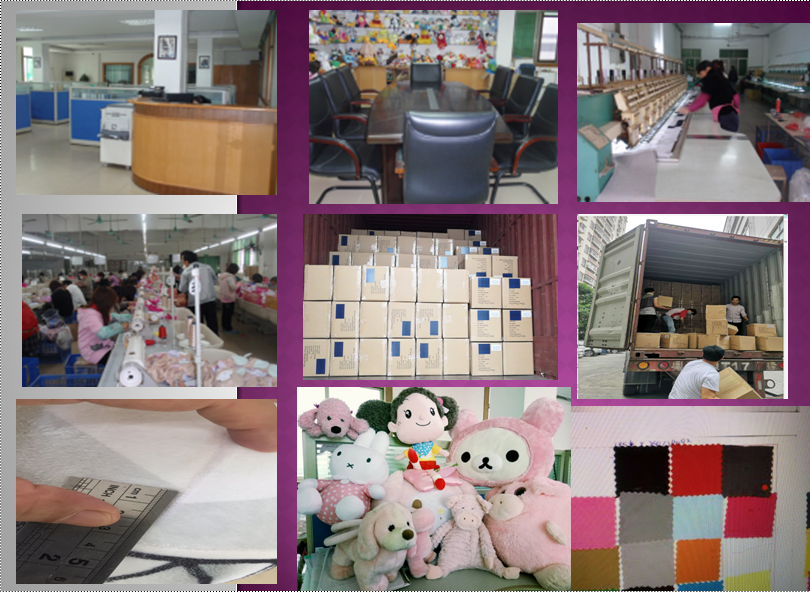 Delivery and after-sale:
Genuine promises: All our products, quality assurance, please rest assured to purchase orders.
About the delivery date: We have a strong team to serve you, to ensure that customers order the delivery date.
About packing: We use punched plastic bags to prevent children from danger. The material of plastic bags can be provided by customers. We can produce them as required. Cartons, colour boxes and other packages can be customized according to customers'requirements.
After-sale service:If there are any quality problems in our products, we can unconditionally replace them.
The company's products with environmental protection materials, excellent workmanship, all kinds of supporting facilities, advanced technology, perfect management, excellent quality, reasonable price, rapid development, strict confidentiality, complete after-sales service. Only detailed product drawings (or samples) are required to provide customers with one-stop service from development to after-sales service.
Map customization:We have professional designers who can design according to your requirements. You only need to provide pictures of toys (physical objects or floor plans) to customize the products you want.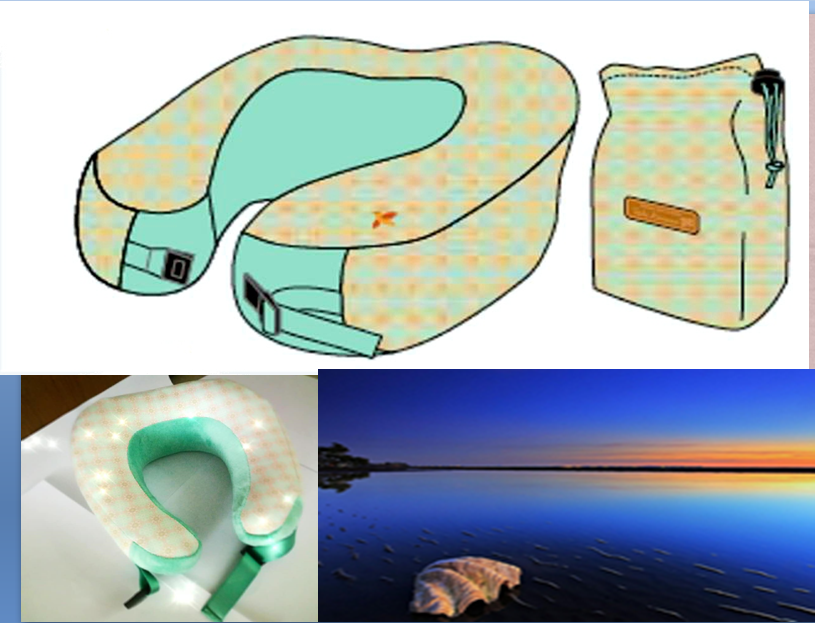 SHEN ZHEN HAO XIAN LONG TECHNOLGY.CO.,LTD
The company was founded in early 1993 with a registered capital of 10 million yuan. Its main products are plush toys, cloth toys, electric toys, plush toy gifts, pillows, travel pillows, plush toy key chains, plush bags, Plush wallets and other toys. In order to meet the market demand, the company has an engineering development department, which can provide customers with various pictures and designs. In recent years, the company's business has maintained a sustained and stable development. Its production and sales situation ranked among the top of the same industry in China for many years. Sales revenue, profits and tax payment showed an upward trend year by year. It has been at the forefront of the industry, constantly carrying out research and development, technology application and promotion of products, strictly enforcing the technical specifications and standards of the industry, and always mastering the industry. The development direction of technology and products, standardize industry market behavior, guide the trend of industry technology, and control the development of industry chain. The products are well-known overseas, 95% of which are exported. The main international markets include Europe, Asia, North America and South America, etc. Haoxianlong has a good product quality and reasonable price, and is popular with customers. The company's development, on the whole, starts with brand, market expansion, scientific and technological innovation, quality management, talent introduction, industrial extension and other aspects to improve the competitiveness of the company's industry.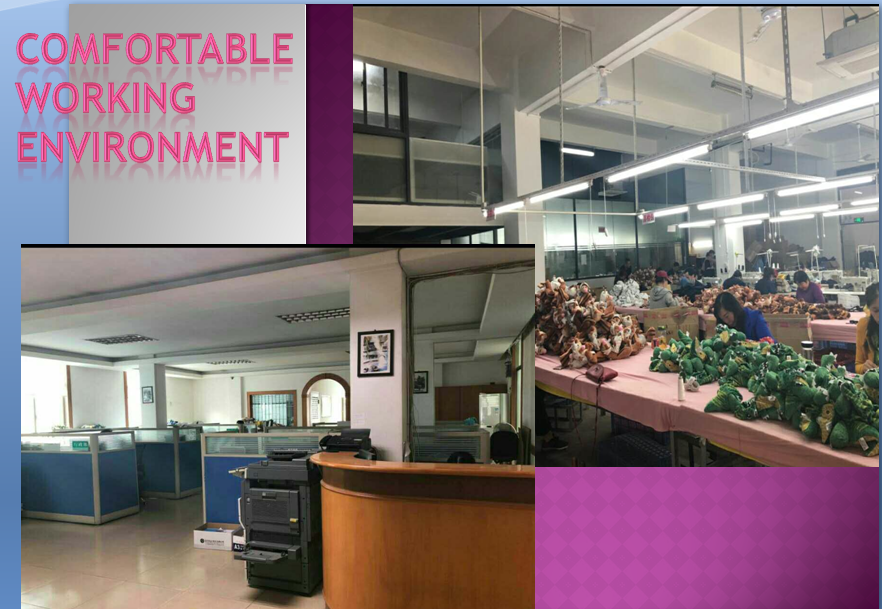 Company Name: SHEN ZHEN HAO XIAN LONG TECHNOLGY.CO.,LTD
Representative: Xiao lin song
Product/Service: Plush toy gift , Soft toy pillow , Plush toy key chain , Plush bag , Custom cad can toy , Plush purse
Capital (Million US $): Ten million RMB
Year Established: 1999
Total Annual Sales Volume (Million US $): US$50 Million - US$100 Million
Export Percentage: 71% - 80%
Total Annual Purchase Volume (Million US $): US$10 Million - US$50 Million
No. of Production Lines: Above 300
No. of R&D Staff: 11 -20 People
No. of QC Staff: 21 -30 People
OEM Services Provided: yes
Factory Size (Sq.meters): 1,000-3,000 square meters
Factory Location: NO2 ZHANGBEI VILIAGE AI LIAN LONG GANG TOWN SHEN ZHEN CITY
Contact Person: Ms. Miss Tan
Tel: 86-0755-89627888